Go to Google and type in "

Millennial

". What did you find?

Articles such as "Why 25% of Millennials Will Never Get Married", "The Real Problem with Millennials", "Millennials are Finally Leaving Their Parents' Basements", "Tips for Managing Millennials", "Do Millennials Stand A Chance in the Real World?", and the list continues...

The Millennial cohort seems to be criticized harder than any other generation in history. We're lazy, uncommitted, problematic, opinionated, unmanageable;

that's what media tells us, right

? We're supposed to be computer wizzes, internet experts, social media gurus. Each generation definitely has their obvious points of success and flaws, but should being a member of a certain cohort reflect on you as an individual?

Because after all, that's what you are, an individual.

That's what any member of any generation is, an individual.

You're a Millennial, so what? Tips to succeed: Know what you want in your career.

Do your research. Know what you are interested in learning, what you want to do with your life,and the areas in which you excel.

Make the most out of college.

Yes, College is a learning experience, but it's also a life experience. Learn from it.

Get experience that matters.

Internships; find them. Listen to your mentors, learn from them. Chances are if you gain an internship, it'll be with a supervisor who has been around the block a few times. Soak it up.

Start networking early.

Join organizations, find local groups that offer opportunities to learn and meet new people in your field. You'll be glad that you did.

Prove your worth.

You went to school, graduated, and got that entry-level job in your field. Work harder than everyone else. Prove that you can do it.

Crest Industries is looking for people like you, people who want to succeed.

Check out our current opportunities and apply online at

www.crestoperations.com

Crest Industries believes that all people are entitled to equal employment opportunity. This means that we will extend equal opportunity to all individuals without regard for race, color, citizenship, national or ethnic origin, religion, creed, sex, sexual orientation, gender, gender identity or expression, marital or domestic partnership status, age, disability, genetic predisposition or carrier status, veteran status or any other protected status under federal, state or local law.
Powered by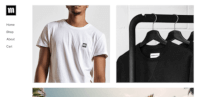 Create your own unique website with customizable templates.