Resolutions can be intimidating... but a lifestyle is not.

Make these helpful tips a part of your life style! It takes 21 days to form a habit.

Keep up with this last set of tips, and you will have made it!

Be a good quality employee. Employers love to be able to trust their employees with projects because they know you will produce high quality work. Whatever you do, put forth your best effort and excel. Try to be self-efficient and complete tasks on your own; however, if you do have a question, do not be afraid to ask. No employer expects you to know everything. If you follow the tips from the last post, this should be no problem.
Be happier. We know this is not easily done, but we also know that it can be done. Life gets hard, work can get tedious, and stress can build up. Do what you need to do to make your day better. If that means taking a walk during one of your breaks, a new morning routine, or simply smiling at people, do it! It will be worth your while, and you will see a change in yourself and those around you. (p.s. We have a blog post about how to make your day better that could be useful.)
Own it. Or at least, act like you own it. Treat your job like its your business on the line. Make decisions based off of what you would want your company to reflect now and in the future. Interact with clients as business owner would do. Show initiative and pride in your work and the business itself. Employers appreciate this more than your realize.
Grow. Take hold of your career and drive it forward. Create goals for yourself and do you best to achieve them. Try not to leave a wake of resentment as you move forward, but rather a trail of inspiration for your coworkers to follow.

Employers are sure to notice these things and appreciate, possibly reward, you because of how they will affect their business. Not only that, but it will make your work life better.
Powered by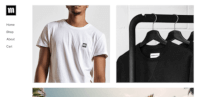 Create your own unique website with customizable templates.