Ding!

10 Seconds to Impress

Imagine:

You're in an elevator waiting to hit your floor, when Ron Burgundy (

Anchorman

star and

FAMOUS

news journalist) walks in right behind you. Being the extrovert that he is, silence is not an option. As the doors close he shakes your hand, and humorously asks if you are the

Engineer

who built this elevator because he wants to do a story on the world's fastest elevator.

You think to yourself, I know nothing about elevators but this surely would be a good opportunity to become famous!

You only have five floors to go. That gives you

10 seconds to impress

him. A situation such as this relates directly to that first common interview question,

"Tell me about yourself."

What your interviewer is really trying to figure out is whether you are

proficient in your skillset

and if you are

culturally a good fit

for the company. How can you answer this inevitable question

better

? Let's break it down further.

Who you are. What you do. How you can add value to the company.When we define ourselves, it is common to simply say "I am a _________ at company __________."

(plug yours in here). This information can be gathered from your resume. What your interviewer wants to know is if you are good at what you do, if you have a passion for the position for which you're interviewing. So instead of stating your position and company, try to show the

passion

and

drive

you have for what you do

. Let's take Arthur for example. Arthur is a

Construction Manager

at

Crest Industries

. Instead of stating this, Arthur could say,

"I'm Arthur, I am currently 'part of a team that produces high quality high voltage infrastructure projects for both the private and public sector. It is very rewarding knowing it will affect the lives of thousands if not millions of people in a positive way'. I can bring my expertise and knowledge to organization to drive improvements." Speaking of passion, this is a Crest Industries' employee testimonial! Check out Crest Industries' current openings at www.crestoperations.com .

In this short time period, it was easy to convey that Arthur is

passionate about his career

and is looking to

add value to the company

. He truly wants the opportunity to excel and to be part of a

team

. Your interviewer will be intrigued by your response and will be eager to learn more about what you can do for the company, in

only 10 seconds

.

I think even Ron Burgundy would be intrigued by that statement, don't you? Stay classy, Crest readers.
Powered by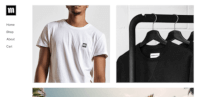 Create your own unique website with customizable templates.