Wake up a little early. There are two ways to wake up a little early. You could allow a little light to come through your windows in the morning which will wake you up slowly as the sun rises. This way you will already be awake when the alarm goes off, which will prevent you from smashing the alarm. If you cannot stand the thought of leaving the window coverings slightly open, set your alarm 15 minutes ahead. Use this time to slowly wake up, run through the day in your mind, and stretch (a good 15 second stretch).

Have some you time. Take 5-10 minutes in the morning to sit on the porch, drink some coffee or juice, listen to music, take a walk, meditate, and/or read or write. Research has shown that people who consume a little bit of sugar in the morning had better memory recall throughout the day. A small amount of sugar in your coffee or a glass of juice is a good amount for your memory and to boost your central nervous system. Don't try to eat a whole bag of mini-powdered doughnuts though… It will not work that way. Taking a few minutes to just relax or exercise sets the tone for the day, to help keep you motivated and get the day off to a good start.

Get rid of a useless object. Take something that you do not need and throw it away! Or donate it (that would be much nicer). Because sometimes, it just feels nice to simplify your life. Do not get rid of anything that you need. You can, however, get rid of that junk you have hiding in the back of cabinets and drawers. One thing a day makes you feel lighter and keeps it clearing the clutter manageable.

Reduce your amount of decisions. Plan your clothes, breakfast, and anything else the night before. Also, keep an emergency outfit in your closet. That one morning you are running so late that you forget your deodorant, you will be glad you took the time to prepare an outfit. Make sure you include socks, belt, etc.

Some of the most successful people wear the same outfit every day. They say that by doing this, they reduce the amount of nonessential decisions they have to make, their decision making skills actually increase for the important ones.

Check your calendar. Check it before you leave each day. This may seem obvious, but nothing is more embarrassing than forgetting a friend or major meeting.

Smile. Lastly, smile! Smiling not only improves your day, but it impacts everyone around you. Take some time, look in the mirror, and smile at yourself. It's not as awkward as you would think. Now get out there and have a wonderful day!


Powered by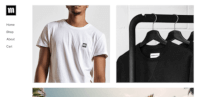 Create your own unique website with customizable templates.