Now that you have some tips on what to do during an interview, we want to share with you best practices for afterward. Making sure to keep in contact with the company is crucial to obtaining a job offer. When you contact the company representative after the interview, it makes you stand out from the candidates who did not do so. Even if you feel that you did not do your best in the interview, it is still worth your time to make contact; you may be surprised. Write a Letter.

If all goes well, you will simply be writing a thank you letter to the company representative for their time and demonstrating that you understand the requirements for the job. You must be sure to address the fact that you will be able to fill those requirements and how you can excel in filling those requirements. Essentially, you will be telling the company that you listened, understood, and have the ability to help fulfill the needs of the position and company.

Make sure to ask the company representative for the best way to get into contact with them; you should definitely get their email address and direct phone number. You do not want to send a letter through "snail mail" anymore. Email is the way to go because it is faster, and you will seem more technically savvy. Do not wait too long to send the email; a 48-hour time period is typical. However, if you do not send it within the 48-hour period, the principle of "better late than never" is applicable.

Contact after an interview is crucial to getting the job! Even if the interview does not seem to have gone well, leave the company with a good impression by showing the representative that you are diligent.


Powered by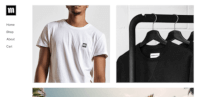 Create your own unique website with customizable templates.