Give others credit: Good leaders know that ideas can come from anywhere and believe in giving credit where credit is due. The limelight is good for everyone, and a good leader knows that.

No one wants to go unrecognized for their efforts.

Ask for input: Knowing that there are other sources for ideas, good leaders ask for input to create better solutions. They know that not one person has the answers to everything. Bouncing around ideas with your coworkers creates a system with little to no faults, while simultaneously creating a system of trust.
Listen effectively:

Good leaders pay attention, ask clarifying questions, and listen to understand instead of listening to reply.

Think positive: As a good leader, one should think positively because one person, especially a leader, can affect an entire team. This is even more essential when making a change: address the negative while making a change towards the positive.
Develop other leaders: Good leaders take the time to help and encourage other. Be a mentor to someone you see potential in; consider it a privilege to help foster greatness tomorrow's leaders. There are famous people throughout history that are known more for their students than their own accomplishments.

"Be the leader you wish you'd had." –Simon SinekDo you have any other tips for being a good leader? Post them in the comments!Crest Industries is looking for people like you, people who want to succeed.

Check out our current opportunities and apply online at

www.crestoperations.com

.
Powered by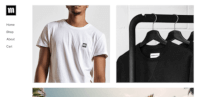 Create your own unique website with customizable templates.